Premium jobs
Captain required for 46m Motor yacht full displacement. Private/Pleasure. Vessel at present in Med but will embark on world tour. Vessel to …
At Imtech Marine, we are focused on excellent engineering. Our technical knowhow and solutions make our customers' projects succeed. Pa…
Title: Data Researcher Department: Intelligence &nbsp We are looking for 2 individuals to work in a friendly, relaxed, professional envir…
Crew Agency Manager. &nbspPeter Insull's Yacht Marketing, a long standing leader in the yachting industry, is searching for an experienced M…
A good opportunity for a hands on, engineering focused junior Captain or First Officer to look after a Mangusta 108 on a fixed 12 month co…
Account Manager / Media Sales. We are looking to recruit a Sales Professional, to join one of the World's leading Superyacht Media &amp…
---
Most recent jobs
Cook required for Motor yacht
SUMMER IS FAST APPROACHING….we're actively recruiting for need chefs, cook/stewards & cook/stewardesses. Previous yachting …
Deckhand required for Motor yacht
Calling all Deckhands & Deck/Stews! If you have a Powerboat Licence level II, STCW95 & ENG1 medical certificate, minimum one season'…
Chief Stew required for Motor yacht
Chief Stewardess required for a 90m plus motor yacht. Competitive salary and leave rotation.The Yacht is Currently based in the Mediterranea…
Chief Engineer required for Sailing yacht
40m S.Y. seeking Chief Engineer Must hold your Y4Prior superyacht experience as a Chief Engineer or 2nd EngineerMust be presentable, good r…
Deckhand required for Motor yacht
To apply for this position, please visit www.crew4yachts.net Job # 4105 Deckhand/Stew needed for Charter Yacht currently located in St Thom…
Chef required for Motor yacht
To apply for this position, please visit www.crew4yachts.net Job # 4104 We are looking for a chef aboard a 36 mtr private yacht. The trip w…
Captain (full time) required for Sailing yacht
38m S.Y. seeking a CaptainMust hold your Captain <500grt licencePrior experience as Captain within the yacht industryPassion for sail yac…
Chief Stew required for Motor yacht
To apply for this position, please visit www.crew4yachts.net Job #4102 We are seeking a Chief Stew on a 144' motoryacht, private an…
Captain (full time) required for Motor yacht
Captain required for 46m Motor yacht full displacement. Private/Pleasure. Vessel at present in Med but will embark on world tour. Vessel to …
Stew required for Motor yacht
To apply for this position, please visit www.crew4yachts.net Job # 4079 Seeking 3rd Stew/Deck. 47M, private Yacht…
---
Latest news brought to you by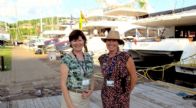 A united front
Following MYBA's sponsorship of the PYA's attendance at December's Antigua Charter Yacht Show, we speak to Joey Meen and MYBA president, Fiona Maureso, about their new unified voice.…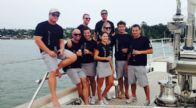 NZ Millennium Cup: on board 'Silencio'
The 2015 edition of the New Zealand Millennium Cup has begun in its new location in the Bay of Islands. The Crew Report spent day one on board S/Y Silencio, who won the first day. We hear from her captain about…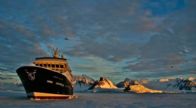 Where next?
Junior crew jump ship for all sorts of reasons, but what level of influence does a yacht's cruising grounds have when it comes to crew moving jobs? We hear from a superyacht captain and two recruitmen…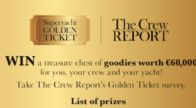 Superyacht Golden Ticket: donors of the week
An Apple Watch, night-out experience (dinner at Nobu and a night at Billionaire Club) and top quality walkie talkies are the prizes from the Superyacht Golden Ticket's donors of the week. These are just three o…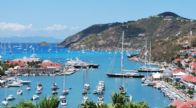 The post-charter review
When it comes to charter, some crew talk about preference sheets but Captain Carl Sputh of M/Y Starfire talks about the 'post-charter review', and talks to The Crew Report about his one sure way to keep those r…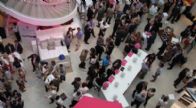 SuperyachtDESIGN Week returns for 2015!
Calling all creatives! SuperyachtDESIGN Week (SYDW), the go-to event for superyacht and design visionaries, is returning this summer from 23 – 25 June 2015.…
Featured Listings